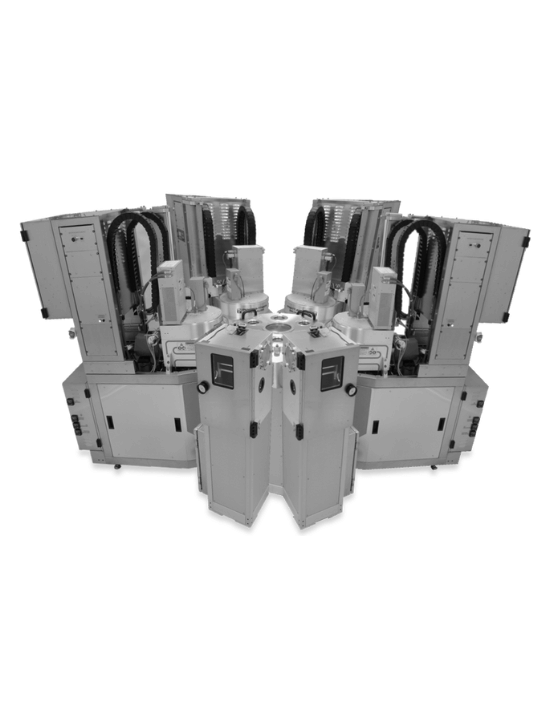 High-density plasma chemical vapor deposition (HDPCVD) is a special form of plasma-enhanced chemical vapor deposition (PECVD) that uses an inductively coupled plasma (ICP) source that provides a higher plasma density than a standard parallel-plate PECVD system. Just as using a low-density plasma from PECVD allowed high-quality films at lower temperatures, high plasma density using ICP along with substrate bias makes it possible to use even lower temperatures. The HDPCVD configuration provides a process route to more dense films with lower wet etch rates at temperatures lower than 150C. This lower temperature makes deposition possible for applications with thermal budgets that exceed what PECVD can deliver. With the added capability of substrate bias, trench fill is possible, along with more planarized films on patterned substrates. 
Trench Fill Application
Trenches can be filled with HDPCVD by using the bias to "drive" material forward into the feature to planarize surfaces with significant topography. Silicon dioxide and silicon nitride are dielectric materials that are commonly used in fabrication of electronic devices to isolate multiple conductive layers, capacitors, and surface passivation.
HDPCVD Compared with PECVD
HDPCVD and PECVD have different operating pressure. HDPCVD processes operate at >50 times lower pressure than PECVD. This results in needing to use 100% silane (SiH4) to get acceptable deposition rates. Another major difference is that because of bias, substrates need to be clamped in HDPCVD.
Films
HDPCVD works well for depositing silicon dioxide (SiO2), silicon nitride (SixNy), silicon oxynitride (SiOxNy), silicon carbide (SiC), and amorphous silicon (α-Si), as well as diamond-like carbon (DLC). HDPCVD has also been used to make fluorocarbon films.
NEED ASSISTANCE?
Let our experts help you customize our processes solutions for your applications.